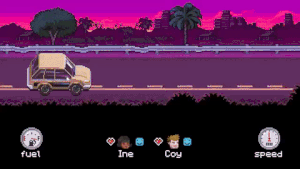 Vehicles are the primary means in which your party travels to Canada. Each vehicle has a set of Vehicle Stats (Speed, Durability, Gas Cost, Repair Value) which will determine how it behaves in relation to various events and player choices.
Driving Events will occur only if the party is currently in a vehicle. While riding in a vehicle, characters will also engage in Conversation.
If the party's vehicle is lost for any reason the party will be forced to Walk.
Vehicles can be found via scavenging at Locations that mention 'with a car' or through random events.
If your party is presently Walking the next scavenging event to occur will be guaranteed to have a car.

The stats used by all cars are listed as follow:
Speed indicates the success rate of jumps, rate of Gas consumption, and effective cost of detours.
Durability is the Chassis and Engine values of a vehicle (these display as percentages of maximum value on the status screen):

Chassis indicates the amount of damage the vehicle can take before it explodes.

Armour is an addition to the Chassis, and allows the vehicle to take more damage. It can only be added during the Armored Garage Event. Each point of armor on the vehicle increases its gas cost by 1 per tick of consumption as long as it is attached.

Engine is the natural decay value of the vehicle. Higher value means longer before the Vehicle needs repairing, regardless of damage taken.

Gas Cost is the amount of Gas lost per tick of consumption.
Repair Level indicates the Mechanical level required to fix the vehicle when it breaks down. Each time a vehicle is repaired, the requirement goes up a level.
Having the same Mechanical level as the requirement will not always 100% guarentee successful repair and if it is successful it will result in a day being passed to fix the vehicle. Having at least one level above the requirement will allow guaranteed repair without loss of a day.
Vehicles come in a variety of different colours and some vehicles have alternate appearances.
The tables below detail the Vehicles currently available in the game:
Regular Vehicles
Sprite
Name
Speed
Durability
Gas cost
Repair Level
Old Car (Starter)

Chassis: 5

Engine: 15-20 / 20

Van

Chassis: 10

Engine: 16-20 / 20

Putt Putt

Chassis: 2

Engine: 10-12 / 15

Station Wagon

Chassis: 5

Engine: 15-20 / 20

Muscle

Chassis: 5

Engine: 10 / 10

Hybrid

Chassis: 3

Engine: 12-15 / 15

Classic

Chassis: 8

Engine: 15 / 15

Bug

Chassis: 3

Engine: 12-15 / 15

Hotrod

Chassis: 3

Engine: 12-15 / 15

SUV

Chassis: 8

Engine: 15-20 / 20

Food Truck

Chassis: 10

Engine: 16-20 / 20
Special Vehicles
Sprite
Name
Speed
Durability
Gas cost
Repair
Dog Van

Chassis: 8

Engine: 15-20 / 20

Pesticide Van

Chassis: 8

Engine: 15-20 / 20

Police Car

Chassis: 8

Engine: 12-15 / 15

Wiener Mobile

Chassis: 15

Engine: 20-30 / 30

UFO

Chassis: 5

Engine: 15-20 / 20

Icecream Van

Chassis: 8

Engine: 15-20 / 20

Clown Car

Chassis: 3

Engine: 12-15 / 15

Rusty Truck

Chassis: 8

Engine: 5 / 5

Snow Plow

Chassis: 8

Engine: 5 / 5