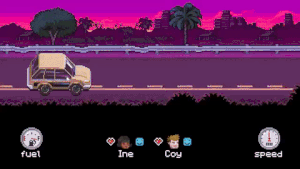 Vehicles are the primary means in which your party travels to Canada. Each vehicle has a set of Vehicle Stats (Speed, Durability, Gas Cost, Repair Value) which will determine how it behaves in relation to various events and player choices.
If the party's vehicle is lost for any reason the party will be forced to Walk.
Vehicles can be found via scavenging at Locations that mention 'with a car' or through random events.
If your party is presently Walking the next scavenging event to occur will be guaranteed to have a car.
Regular Vehicles
Edit
Special Vehicles
Edit
Ad blocker interference detected!
Wikia is a free-to-use site that makes money from advertising. We have a modified experience for viewers using ad blockers

Wikia is not accessible if you've made further modifications. Remove the custom ad blocker rule(s) and the page will load as expected.