True Despair is an Driving Event in Death Road to Canada. The party has the chance to gain a large amount of food, at the risk of permanently damaging a member's morale.
Event text
As the group searches an abandoned house, a miracle happens. They find a government ration box, unopened.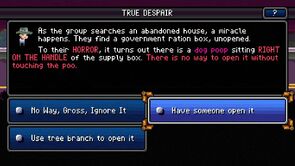 To their HORROR, it turns out there is a dog poop sitting RIGHT ON THE HANDLE of the supply box. There is no way to open it without touching the poo.
This could be the biggest challenge, yet!
No Way, Gross, Ignore It
Have someone open it
Results
No Way, Gross, Ignore it
The group ignores the supply box and all the food inside of it.
They find a couple cans of food while searching the rest of the house, but must wonder what they missed.

Have someone open it
Who should open the crate?
WARNING: THIS IS REALLY GROSS
THERE IS DOG POO ON THE CRATE
THIS COULD BE A BIG DEAL
**For most party members**
[Character] tries to nudge the poo off the box with a piece of wood, but it goes HORRIBLY wrong. They get grossed out pretty bad!
This is, by far, the worst thing to happen to [Character] in the zombie apocalypse. They will never, ever be the same.
[Character] -3 Morale (PERMANENT)
+15-20 food
**If the character/group has a tree branch**
Every child knows that the only surefire way to move a piece of dog poo is to use a stick from a tree branch. It's nature's perfect poop remover.
You channeled your sense of whimsy and child-like wonder to triumph over this dangerous situation.
Congratulations!
YOU'VE FOUND THE TRUE ENDING TO DEATH ROAD TO CANADA!
**If character has the Oblivious Trait**
[Character] opens up the supply box. What was the big deal?
  He/She never noticed the dog poo.
Every other party member -2 Morale
+15-20 food
**If character has the Friend of Dog Perk**
[Character] loves dogs, and is no stranger to picking up dog poop and putting it in a plastic bag.
  In fact, doing so reminds [Character] of civilization. Feeling that warmth in your hand, feeling alive!
+15-20 food
[Character] +2 Morale
**If character is a dog**
The dog poop mysteriously disappears before [Character] nudges the box open!
[Character] looks really guilty.
+15-20 food
[Character] Morale -1
**If character is a goat**
**If character has a high attitude**
[Character] attempts to keep up a positive attitude. One day, [Character] will be able to look at this and laugh. But not today.
+15-20 food
[Character] -2 Morale (not permanent)